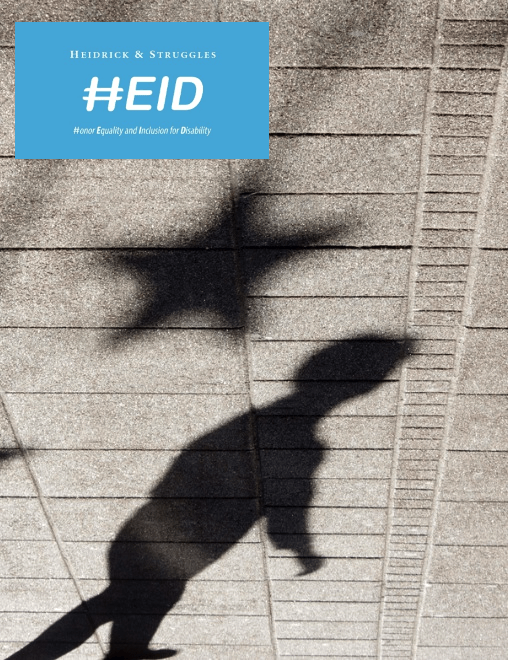 Honor Equality and Inclusion for Disability (HEID)
Mission

HEID was founded to support the needs of current and future employees with disabilities and their allies. Our mission is to help Heidrick & Struggles achieve its collective goal of being a fully inclusive work environment where all employees are able to achieve their professional aspirations. HEID seeks to:
Provide a forum for employees to explore the effects of disability on their professional goals and development.
Co-create best practices for accommodating the unique needs of persons with disabilities in the workplace.
Build relationships with community partners around the globe to support the employment of individuals with disabilities.
Raise awareness on the unique needs and perspectives of individuals with disabilities and best practices for their full inclusion in the workplace.
I am so proud of Heidrick's commitment to making our firm fully inclusive and its support of HEID. Our work in building awareness and support for employees with disabilities aligns with our goal of being a thought partner with our clients, helping them in their own efforts to build diversity and inclusion polices for individuals with disabilities.
Lisa Baird, Partner
Too often, the needs of individuals with disabilities are overlooked in diversity and inclusion policy. HEID is our commitment as a firm to keeping them core to our goal of being a firm that places diversity and inclusion as a top strategic priority.
Adam Zellner, Partner
Our global commitment to diversity and inclusion is evident in the global reach of HEID. We are proud of our efforts in the Americas, Europe, and Asia to build inclusion practices for persons with disabilities that are responsive to local needs.
Stefano Salvatore, Partner
Meet the honor equality and inclusion for disability leadership