Association and nonprofit boards: Maximizing effective service
Boards & Governance
Association and nonprofit boards: Maximizing effective service
A survey of association and nonprofit board members explores what motivates directors to serve, how directors view their roles, and how the organizations they support can improve their experience.
Association and nonprofit boards: Maximizing effective service
This country would not be what it is without the volunteer spirit of its people. At the highest level, associations and nonprofits, run by their executive teams and boards of directors, are focused on valuable missions. They strive to better society as a whole, expand economic opportunities, eliminate crippling diseases, provide for those who cannot provide for themselves, and offer education and development opportunities to their constituencies, among other undertakings.
On the heels of last year's report, Association CEOs: Leading through Change, a new survey builds on our knowledge of association management, widening the lens to look at the broader picture of influential associations as well as nonprofits in a variety of industries. We surveyed more than 500 board members of industry trade associations, professional societies, charitable causes, religious orders, fraternal organizations, and local civic organizations across North America to get an insider's perspective on what actually happens in the boardrooms of these vital organizations.
Key findings
The results are striking. Importantly, although our survey respondents reported spending an average of 172 hours a year in service—more than 3 hours a week—92% feel the commitment is a good use of their professional time. This goodwill is reflected in the reasons directors choose to serve: 91% said they support the mission of the organization, and 68% agree with the statement "I believe I could make the organization more effective with my board involvement."
However, there are clear areas for improvement in the board experience. Our survey suggests that the onboarding process for many boards needs further development to ensure board members are fully equipped to contribute during their term. Fewer than half of respondents said their organization's onboarding experience properly prepared them to be an effective board member. The current tendency toward informal and inconsistent processes could be hampering the effectiveness of new board members and the appeal of board service overall.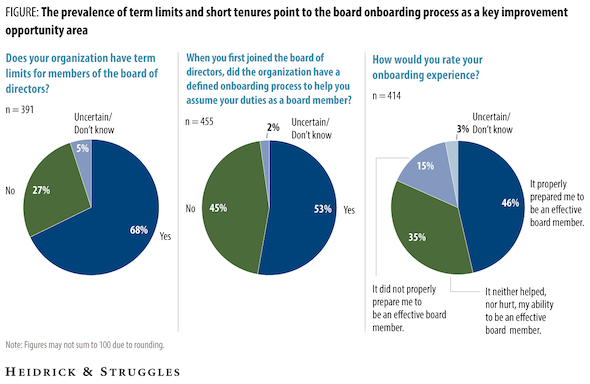 In addition to parsing the survey results, the report offers practical advice for association and nonprofit leadership, as well as firsthand accounts of best practices provided by Marlene Colucci, executive director of The Business Council, and Scott Melville, CEO of the Consumer Healthcare Products Association.
---
About the authors
Julian Ha (jha@heidrick.com) is a partner in Heidrick & Struggles' Washington D.C. office and leads the Associations sector.
Bill Hudson (bhudson@heidrick.com) is a senior advisor to the Associations sector.
David Rehr is a professor of the Antonin Scalia Law School at George Mason University.
Stay connected
Stay connected to our expert insights, thought leadership, and event information.
Leadership Podcast
Explore the latest episodes of The Heidrick & Struggles Leadership Podcast