Putting simplicity at the heart of strategy: Interview with First Republic Bank Chief Banking Officer Mike Selfridge
Financial Services
Putting simplicity at the heart of strategy: Interview with First Republic Bank Chief Banking Officer Mike Selfridge
Mike Selfridge, chief banking officer at First Republic Bank, talks about organizational simplicity as the key for its growth and how the COVID-19 pandemic has changed the way it looks at simplicity.
Mike Selfridge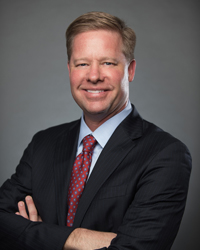 Mike Selfridge was appointed chief banking officer for First Republic Bank in 2016. He joined the company in 2012 and previously served as chief operating officer and chief risk officer. He oversees business banking, Eagle lending, and banking in the Northern California; Los Angeles; Portland, Oregon; and Jackson, Wyoming, regions. Prior to First Republic, he worked at Silicon Valley Bank for 18 years, most recently serving as its head of US regional banking.




---
Heidrick & Struggles: What role does simplicity play in your strategy?
Mike Selfridge: Simplicity is one of the most intuitive concepts for us to understand, and yet it is one of the most difficult concepts on which a leader and executive team can execute. Simplicity is at the heart of our strategy and business model at First Republic Bank. And, while our "simple strategy" is publicly stated, the execution and continuous communication of what simplicity means for us and its implications for our strategy is a difficult practice to sustain. However, it is the key to our growth.
Most importantly, we have to sustain discipline for our team and the company to stay focused on what matters most and not get easily distracted by the many, many tempting initiatives that can pull away from the core competency and culture of the organization. Distractions and complexity often get in the way of growth, while keeping it simple complements growth.
Heidrick & Struggles: Could you describe how First Republic Bank has embedded simplicity in its culture?
Mike Selfridge: First Republic has a simple business model, but simply stating this is not what matters. What matters is the continuous practice, demonstration, execution, and communication of such simplicity and what it means to our strategy and to our many stakeholders—be it clients, shareholders, employees, or regulators. This is a core value leading to our growth, and it requires a great deal of hard work and discipline to stay focused on keeping it simple. However, that simplicity is difficult to execute.
Heidrick & Struggles: How does simplicity manifest in your strategy?
Mike Selfridge: If you look at First Republic Bank's consistent growth over the past 35 years, it's essentially a by-product of staying focused. It comes down to identifying what we do well and what we don't, and then doing more of what we do well. We also need to do a calibration based on what we know is acceptable and successful across different geographies, because of regulation or customer behaviors. Our loan portfolio mix today looks very much the same as it did 20 years ago. However, as there are substantial market-growth opportunities for our products, the simplicity and focus of what we do well provide us with the opportunity to scale our business.
This simplicity and focus also allow us to offer extraordinary service for our clients and to take care of our employees, which is the simple strategic focus for us. In fact, we are proud to say that there are many services First Republic does not provide. We publicly disclose our "do not do" list of the products and services that we do not offer at First Republic, such as proprietary trading, clearing services, reverse mortgages, or credit card insurance, among many other services. What this "do not do" list really communicates to our stakeholders is simplicity and a continuous focus on what matters the most as it relates to our strategic objectives—keep things simple and focus relentlessly on what matters most to your strategy and stakeholders. For First Republic, this is delivering extraordinary service to clients, consistently and at all levels and in all geographies, and then empowering employees to do so as well.
Heidrick & Struggles: What do you think the biggest complexity risk and opportunity will be for financial services in the next two to three years?
Mike Selfridge: In many ways, over the past three decades, the banking industry has gone from simple to complex and now seemingly back to simple—back to the basics of what banking means, and cross-serving clients on those services. Yet, the complexity and risk of keeping it simple come from the changing environment in financial services and client expectations for how financial services are used and consumed. It's what I call "asynchronistic banking," which is defined as "banking where I want, when I want, and how I want it." This is most prevalent in terms of the digital initiatives and channels that have evolved in banking over the past two decades.
Heidrick & Struggles: Do you see an opportunity there as well?
Mike Selfridge: Yes, and while the banking industry may see more complexity and risk from areas such as digital and technology, this shouldn't distract from simplicity and a focus on the business model itself. If anything, it becomes more complementary—to our bankers serving clients and to our clients using financial services. Again, the key is knowing what you do well, how you do this well, and why it is important to your clients. In many regards, it's all about adapting to a changing environment while being true to core values and culture, and then empowering your employees to do what they do best.
Heidrick & Struggles: How has the COVID-19 pandemic changed the way First Republic Bank looks at simplicity?
Mike Selfridge: I think the pandemic has further strengthened our view that the simple business model and focus is the right one. This is one of the most difficult and challenging environments we have experienced in our lifetime. It has been a challenge for all to navigate, lead, and communicate effectively. In this regard, I believe that simplicity has enabled us to provide even more clarity around our strategy and what needs to be done—and done quickly—during a crisis in order to continue to provide our clients with extraordinary service. Simplicity has enabled us to move forward, with a sense of urgency, in a number ways: serving clients, implementing a remote-working environment quickly and effectively, communicating with stakeholders, and expediting digital initiatives to conduct business more efficiently during the crisis. If simplicity is better than complexity, which I think it is, then such simplicity has afforded us the opportunity during this crisis to continue to serve clients well, lead the company forward, and focus on what matters the most in an extremely challenging environment.
Our strong client-centric service culture and focus, simple corporate structure, simple product sets, and strong governance have enabled us to manage through this crisis as best as we could have expected, and I attribute this to simplicity and focus.
Stay connected
Stay connected to our expert insights, thought leadership, and event information.
Leadership Podcast
Explore the latest episodes of The Heidrick & Struggles Leadership Podcast