Purpose and sustainability in the organizational DNA: Interview with Gilles Andrier, CEO of Givaudan
Industrial
Purpose and sustainability in the organizational DNA: Interview with Gilles Andrier, CEO of Givaudan
Gilles Andrier, CEO of the world's largest company in flavor and fragrance, discusses purpose-driven leadership in the chemicals industry.
Gilles Andrier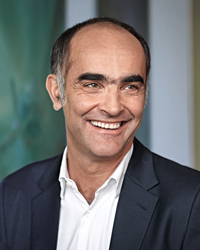 Gilles Andrier is the CEO of Switzerland-based Givaudan, the world's largest company in the flavor and fragrance industries. His previous roles at Givaudan include head of fragrances operations in the United States, head of consumer products in Europe, and global head of fine fragrances. He was appointed to the role of CEO in 2005. Andrier graduated with two master's degrees in engineering from ENSEEIHT Toulouse.



---
Heidrick & Struggles: How has your attitude changed toward sustainability over the past five years?
Gilles Andrier: As a part of our DNA, sustainability has always been high on our agenda. We have a relatively low carbon footprint, and we have plans in place to continue to reduce the footprint, particularly at the sourcing level; we put a lot of emphasis on sustainable sourcing by making sure that we are less dependent on oil-based entrants. But our sustainability ambition goes beyond that, and it is reflected in the way we interact with communities, suppliers, and other stakeholders. We have a sustainability officer within our supply chain scope to make sure that happens, who is also our head of global procurement and a member of the executive committee. We have also developed a leadership framework and a training program to embed and reflect it in our culture.
Heidrick & Struggles: How has sustainability influenced your purpose?
Gilles Andrier: Even though we felt that sustainability was part of our DNA, we felt we needed something more fundamental. When millennials were asking me what our purpose as a firm was, I could not articulate it in a crisp and clear way. So, in 2019, we started to look at how Unilever, Danone, and others had positioned their organizations. We spent nine months rethinking our new purpose with a bottom-up approach, connecting with 500 customers, suppliers, employees, and partners to be able to articulate our purpose and build something very strong, which would become our overarching compass. Not something additive just for our annual report, but an ethos that guides everything we do and how we do everything and that is aligned to our culture. Our purpose is our lighthouse: "Creating for happier, healthier lives with love for nature. Let's imagine together."
Heidrick & Struggles: How did you arrive at your purpose?
Gilles Andrier: In a way, it was relatively easy to define, as our culture is strong and comments and feedback were converging easily. And, by definition, what we produce brings happiness, and our business model is dependent on nature. Each word of our stated purpose is important and has to be reflected in what we do. For example, "happier" is a natural form for our core business in perfumes and flavors, "healthier" drives some adjacent businesses and new areas like nutraceuticals, and "lives" is because we want to have more people benefit from our products, with the goal to double our business within 10 years. We also wanted to be distinctive, which is not easy because every company tends to use the same words. But I think that the way the words have been chosen for our purpose reflects who we are and our culture. For instance, we chose "love of nature" rather than "respect for the planet," as we think that it is closer to how people feel about the environment.
Heidrick & Struggles: How does purpose impact your operations?
Gilles Andrier: We have aligned our goals and targets to our purpose. We are aiming to become carbon neutral by 2050 and have set some intermediary goals for our communities. We have also set goals for diversity and inclusion, particularly [in terms of] gender and high-growth market representation. We don't take it lightly. At Givaudan, we say what we do and do what we say, so it was paramount that we did it right. It is not greenwashing. It is sincere, and everything we say will be delivered upon.
We defined our purpose and aligned our objectives and targets without initially knowing exactly how we would achieve them. We developed our 2025 strategy and our investment subsequently, and our divestment decisions were already guided by our purpose.
Heidrick & Struggles: What do you think has to change when it comes to leadership in order to support this new direction?
Gilles Andrier: First of all, the CEO is the starting point. A CEO needs to be truly invested—a believer and ready to engage all the stakeholders. At the beginning, I was reluctant to communicate too much because I thought the focus should be on the purpose itself. But I realized that it is easier to engage and galvanize our organization if we talk about [the purpose], so we put a communications strategy in place and we continue to talk internally and externally about how we are putting our purpose into action.
Our executive team is fully invested, but it was more difficult for the senior business-unit leaders because their objectives often have a shorter-term focus—namely growth and profitability. They had to translate our purpose very practically into everything we do. For example, when it comes to innovation in more renewable resources, capital expenditure will increase. And so, when we use renewable energy, which is more expensive, we have to find economies elsewhere in the business.
Sustainability is the start of the strategic process, not one line in the plan. Every manager has to own it, and as they work on more details for their strategies based on our purpose and sustainable goals, I am confident they will bring new ideas. The whole organization, from leadership to the newest employees, needs to undergo a real mental shift. Our board probably needed to take the biggest leap, as they represent different generations, but they have endorsed the new purpose and strategy and have supported our communications and engagement plans. But it's up to us to prove it works.
Stay connected
Stay connected to our expert insights, thought leadership, and event information.
Leadership Podcast
Explore the latest episodes of The Heidrick & Struggles Leadership Podcast