Route to the Top 2019: Interview with BJ's Wholesale Club executive chairman Christopher Baldwin
Route to the Top 2019: Interview with BJ's Wholesale Club executive chairman Christopher Baldwin
Christopher Baldwin, executive chairman and former CEO of BJ's Wholesale Club, talks about how the success of the CEO role will be increasingly dependent on the ability to manage the company's stakeholders.
Christopher Baldwin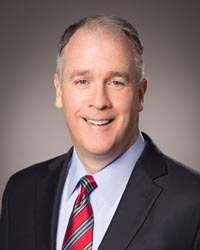 Christopher Baldwin is executive chairman and former CEO of BJ's Wholesale Club, a membership-only warehouse club in the United States. He joined the company in 2015 as president, chief operating officer, and director; was appointed CEO in 2016; became chairman in 2018; and was named executive chairman in 2020. His previous roles include CEO of Hess Retail Corporation and executive roles at Kraft Foods and The Hershey Company. He also serves as an executive board member at Harlem Lacrosse and Leadership, a school-based nonprofit for at-risk youth.
---
Heidrick & Struggles: How do you see the CEO role changing against the backdrop of relentless business transformation, economic slowdown, shareholder activism, and newer demands—including diversity and inclusion, ESG, and sustainability?
Christopher Baldwin: We live in a world where more constituencies have a voice, far more than they did 30 years ago. I always say that no one ever needs to feel sorry for CEOs; we have an amazing role, and with that comes responsibility. I strongly believe the role needs to be firmly grounded in the core strategies of the company. The demands on the CEO are far greater than eight or nine years ago, and the biggest difference is having to manage multiple constituencies effectively and consistently. Remaining focused on the company's strategic core principles enables a CEO to see around corners.
Heidrick & Struggles: How does that influence the search for the next generation of CEOs, especially when it comes to the skill sets and experiences your company is prioritizing for future chief executives?
Christopher Baldwin: As part of our talent succession planning process identifying and preparing potential successors to be CEO, we expose leaders to a variety of activities, especially with investors. Deeply understanding the strategic core is paramount. Giving them real exposure to the daily pressures of a CEO is invaluable. In terms of what we are looking for in potential candidates, the ability to show demonstrable experience in successfully managing a broad set of stakeholders through different circumstances is high up on the wish list. And, of course, we are looking for the ability to nurture an open environment and encourage a wide spectrum of perspectives.
Heidrick & Struggles: What would you say are the skill sets and experiences that lay the foundation for a successful CEO?
Christopher Baldwin: The ability to listen has become much more critical for new CEOs, but it has to be coupled with an effective filter and prioritization system, because if you are trying to please everyone, you will please no one in the end. It's important to be able to quickly firm up your position on issues, stay the course, and ignore the noise in order to accelerate your business. And given that we now operate in an environment of continuous disruption from a wider set of competitors, it's important to have the ability to be comfortable being uncomfortable in order to become a disrupter yourself. Resilience is also a fundamental characteristic—the ability to bounce back from setbacks and adjust your strategy accordingly. And as disruption breeds transformation, you have to be open to all feedback, including criticism, to effectively set and manage big transformative organizational programs.
CEOs have to also work well with their boards, and today the board composition is more diverse than in the past, not only from a gender but also from a background perspective. We have added investors' views to the mix, which has been very helpful. But that also means that, as a CEO, your stakeholder management capabilities need to expand even further.
Heidrick & Struggles: Now turning to your own career, what would you say are the key skills and experiences that propelled you to the top role?
Christopher Baldwin: When I think about what contributed to my career, I would start with the ability to listen, which is a necessary and sometimes elusive skill but absolutely critical. I think that is even more relevant when companies go through more challenging phases, as very often those phases are caused by an inability to listen. The second is empathy, which by definition is the capacity to see the world through the eyes of others. And layered on the first two, I would add the competency to manage various stakeholders consistently.
Heidrick & Struggles: What was the most helpful tip from a mentor on how to be a successful CEO?
Christopher Baldwin: The best piece of advice that was given to me by a mentor was to build a terrific team. When you become a CEO, you realize pretty quickly that you are not capable of doing it all on your own. One thing that has contributed to my effectiveness as a CEO has been the ability to recruit tremendous leaders. It has been instrumental in enabling us to punch above our weight because we have a fantastic team!
---
To gain more insights on today's CEO, see the full Route to the Top 2019 report.
Stay connected
Stay connected to our expert insights, thought leadership, and event information.
Leadership Podcast
Explore the latest episodes of The Heidrick & Struggles Leadership Podcast