Knowledge Center: Publication
Diversity and Inclusion
Meeting the inclusion imperative: How leaders can link diversity, inclusion, and accelerated performance
4/30/2020
Krishnan Rajagopalan
and
Lyndon A. Taylor
Download Publication
Executive Summary
Fifty years or more of corporate efforts to build diverse workforces—and at least a decade of trying to ensure diverse employees feel included and able to contribute—have left most corporate leaders frustrated. Both diversity and inclusion have been harder to achieve than anyone expected, while the evidence mounts that companies that get them right can see a significant improvement in performance, including financial performance. However, too few companies are seeing their efforts to improve diversity and inclusion (D&I) pay off, and most are wondering how to move forward.
In the following graphic, we give an overview of new research from Heidrick & Struggles, which defines the size of the gap between corporate efforts to ensure employees feel included and the perceived contribution of D&I to business success—and identifies a group of companies closing the gap that we call the D&I Vanguard. Notably, the companies in this group have also generated a five-year revenue compound annual growth rate (CAGR) 62% higher than that of the other companies in the survey.
Given that many companies are finding it hard to make progress on diversity alone, the Vanguard group's achievements are well worth celebrating and exploring. And their actions suggest a way forward for other leaders seeking to improve D&I overall, inclusion specifically, and business performance, by creating organizations where inclusion and business strategies are intertwined, mutually reinforcing and amplifying the success of both.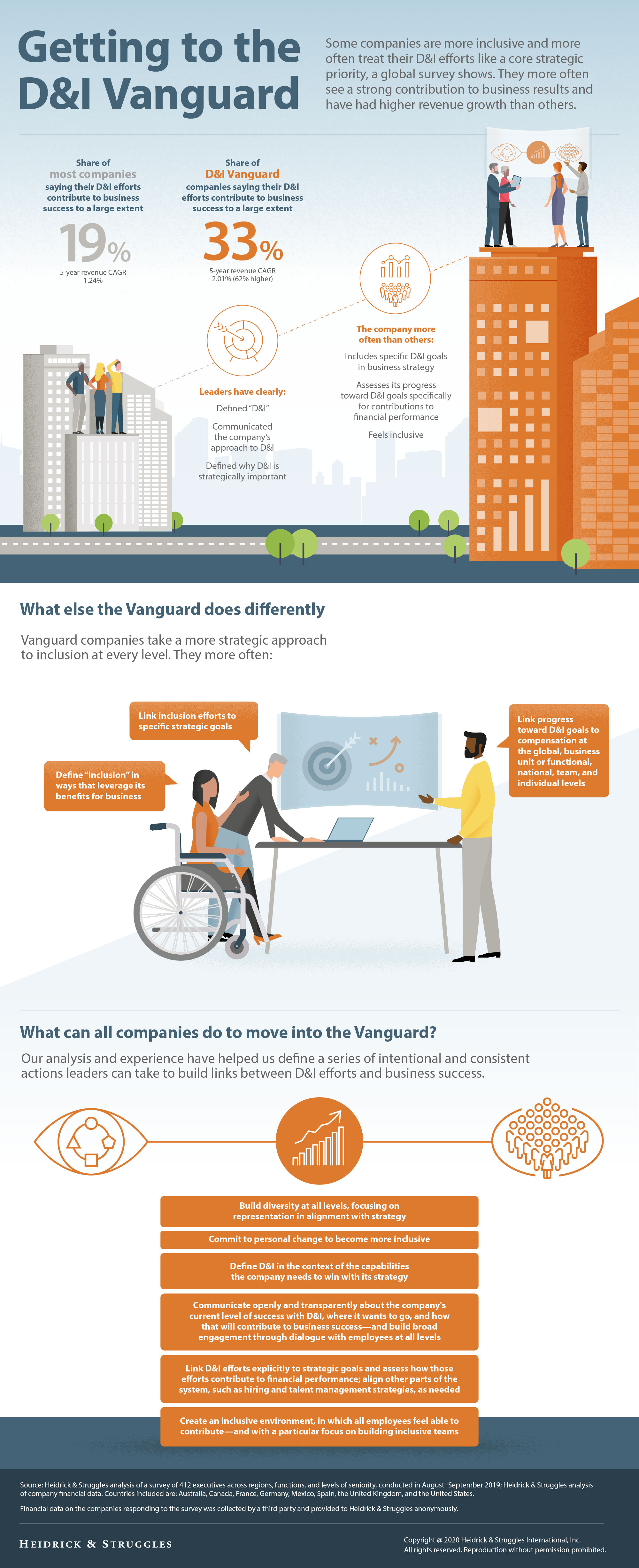 ---
To read the full report, flip through the interactive version above or click the download button for the PDF. To download this executive summary, click here.
---
About the authors
Krishnan Rajagopalan (krajagopalan@heidrick.com) is President and CEO of Heidrick & Struggles; he is based in the Washington, DC, office.
Lyndon Taylor (ltaylor@heidrick.com) is the lead partner of the Diversity & Inclusion Practice and partner-in-charge of the Chicago office.
The authors wish to thank Jennifer Flock, consulting lead, Europe, for the Diversity & Inclusion Practice, and Christianne Garofalo, consulting lead, Americas, for the Diversity & Inclusion Practice, for their contributions to this report.
The authors also wish to thank Alice Breeden, Alain Deniau, Rose Gailey, Tiffany Gooden, Andrew LeSueur, David Pruner, Victoria Reese, Sharon Sands, Conrad Schmidt, and Karen West for their additional contributions to this work.