Board Monitor Mexico 2022
Boards & Governance
Board Monitor Mexico 2022
In 2021, companies listed on the BMV showed a preference for first-time public board members as well as active executives.
About the report
This report is part of Heidrick & Struggles' long-standing study of trends in board composition in countries around the world. Produced by our CEO & Board Practice, these reports track and analyze trends in nonexecutive director appointments to the boards of the largest publicly listed companies in Australia (ASX 200), Belgium (BEL 20), Brazil (BOVESPA), Canada (TSX 60), Denmark (OMX Copenhagen 25), Finland (OMX Helsinki 25), France (CAC 40), Germany (DAX and MDAX), Hong Kong (Hang Seng), Ireland (ISEQ), Italy (FTSE MIB), Mexico (BMV IPC), the Netherlands (AEX), New Zealand (NZX 10), Norway (OBX), Portugal (PSI 20), Saudi Arabia (Tadawul), Singapore (STI 30), South Africa (JSE Top 40), Spain (IBEX 35), Sweden (OMX 30), Switzerland (SMI Expanded), the United Arab Emirates (ADX and DFM), the United Kingdom (FTSE 350), and the United States (Fortune 500). Information about executives is gathered from publicly available sources, BoardEx, and a Heidrick & Struggles proprietary database.
As society and business are reconciling the events of the past two years and a new corporate license to operate is taking shape, boards are facing a marked need to understand what changes they must make in order to successfully lead their organizations through both the near- and long-term futures.
In most countries, there is a very clear expectation that companies take a stand on social and political issues, the war in Ukraine being a clear example in which many stakeholders expected companies to sacrifice their profit and operations for the greater good. In Mexico, companies are expected to put their communities first and protect them from the combined impacts of the COVID-19 pandemic and the increased cost of living caused by the war in Ukraine. And, in almost every country, stakeholders now expect and require companies to act in a sustainable manner.
So, have boards moved the dial when it comes to changing their composition to tackle these new expectations and mitigate the risk of losing their license to operate? In Mexico: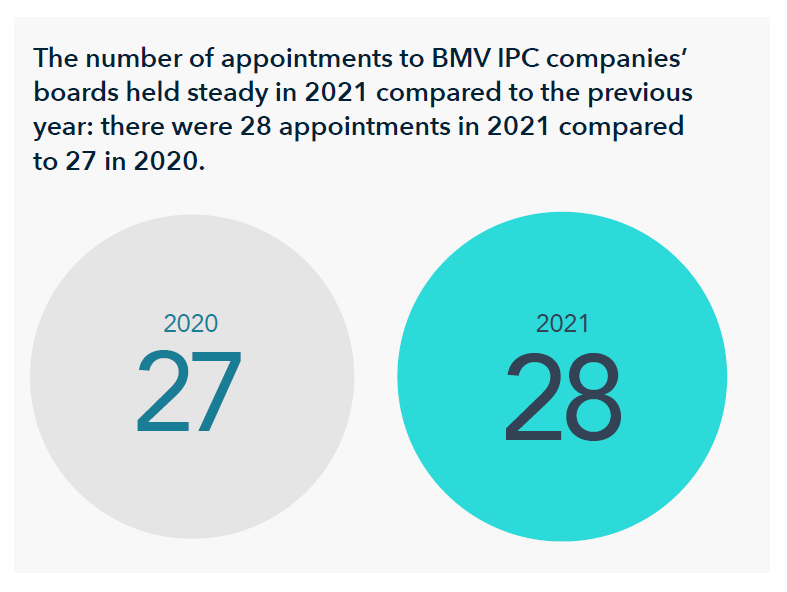 While there has been progress in broadening the spectrum of experience around boardroom tables in BMV IPC companies—particularly by adding the expertise of sitting executives and those who have not served on boards before—each company needs to make sure it is not only prepared for today's challenges but is able to anticipate what type of directors it needs in order to be future-proof.
---
Acknowledgments
Thanks to Lewis Adams and Lydia Peraza for their contributions to this report.
Stay connected
Stay connected to our expert insights, thought leadership, and event information.
Leadership Podcast
Explore the latest episodes of The Heidrick & Struggles Leadership Podcast