Route to the Top 2019: Interview with Severn Trent CEO Liv Garfield
Chief Executive Officer
Route to the Top 2019: Interview with Severn Trent CEO Liv Garfield
Liv Garfield, CEO of Severn Trent, shares her thoughts on the challenges she has faced and lessons learned and how she sees the CEO role evolving.
Liv Garfield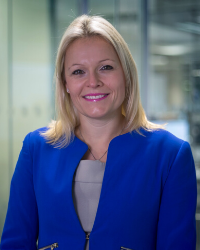 Liv Garfield is the CEO of Severn Trent, a FTSE 100 water utilities company. She joined Severn Trent from the BT Group, where she compiled an impressive portfolio that included being the CEO of Openreach, where she spearheaded and oversaw the commercial rollout of fiber broadband to two-thirds of the United Kingdom; Group Director of Strategy and Regulation; Managing Director Commercial and Brands; and Global Services and UK Customer Services Director.
---
Heidrick & Struggles: How do you think the role of the CEO will evolve over the next three to five years in response to board and stakeholder expectations?
Liv Garfield: CEOs have always had to focus on running their company well, but, unquestionably, a CEO needs to increasingly focus on purpose, investing time and resources in making a wider contribution to the environment and to the communities where their company operates. They need to focus more on culture, as culture is the enabler of any upside, and it should guide you as a leader.
Heidrick & Struggles: What skill sets and experiences do you think CEOs will need three to five years from now?
Liv Garfield: Sustainability will be hugely important for the next generation of CEOs for a host of reasons. CEOs will need to truly understand the interrelationship of their business and wider macro-environmental issues, such as climate change, as well as the impact on society, policy, and the broader economy.
Empathy is absolutely critical for CEOs. In a politically uncertain world—with increasing divergence between the "haves" and "have nots," you have to think carefully about how you show up as a leader and ensure you're in touch with your customers, employees, and wider stakeholders.
And, not in the least, I think they'll need a better understanding of artificial intelligence and innovation more broadly. Although, as a CEO, you can't be an expert in all areas, you need to set an ambition for the business and ensure you're abreast of the key developments that could put your company in a more competitive position.
Heidrick & Struggles: When you look back at your career, could you identify and share one of your most formative experiences or talk about a mentor-like figure who helped shape your career?
Liv Garfield: Returning from maternity leave, I was committed to working four days a week. As I came back, I was offered a big promotion, reporting to the CEO, and my immediate reaction was that I wouldn't be able to make it work, that the timing wasn't right and I needed to prioritize my family. My CEO gave me the confidence to believe I could do the role within those four days, that the promotion didn't mean working harder or longer hours, but it meant leveraging my intellect and my team in a different way. He made me believe that I could be a good mom and a good CEO.
A mentor has helped me understand which activities give me energy and which sap it. Although I can't love every part of my job, I can organize my time so that I love every day. This has been a game changer; it's allowed me to sustain my energy and enthusiasm and be more impactful.
Heidrick & Struggles: On the other side of the coin, could you describe a particular challenge in your career, large or small, that taught you an important lesson?
Liv Garfield: I've learned through difficult periods as a CEO that resilience is everything. I believe the ability to quickly recover from setbacks, rally for longer, and remain positive is a key differentiator for many top CEOs.
I've also learned to leverage tough times to build followership. In times of crisis, the role of the CEO isn't to be a spokesperson; it's to lean in and help with the critical tasks that need to be done. You can absolutely come out of this period stronger.
Heidrick & Struggles: In order for CEOs to do their job effectively every day, they need resources that include people, information/knowledge, capital, and time. Are there others you would add to that list?
Liv Garfield: As a CEO, you can't be everywhere, and you need to listen hard and carefully to what the business is telling you. Therefore, you need more leaders with empathy, people who combine really good analytical and strategic capability with really good listening skills.
Heidrick & Struggles: Studies on culture point to a powerful phenomenon, "shadow of the leader," where, over time, organizations take on the characteristics of their leaders. How would you say that your "shadow" shaped the culture of your company?
Liv Garfield: If I had to describe my "leadership shadow," I think I'm seen as approachable, enthusiastic, responsive, and pacey. Everyone knows they can reach me. Everyone knows I respond to e-mails; I don't go to bed with more than 10 e-mails in my in-box.
I trust people, and I care. I trust that everyone comes to work wanting to do the right thing for our customers. I listen. I know I don't know all the answers, and I want everyone to share their brilliant ideas.
Heidrick & Struggles: What are the most challenging aspects of your role, and how do you expect those to change for you and for other CEOs over the next three to five years?
Liv Garfield: For CEOs, change is the only constant, and sustaining energy and pace will continue to be the challenge. As a CEO you're always "on." You have to be available 365 days a year and to be at your best every day. I'm continuously thinking: is everyone safe, is everyone happy? Sustaining this will continue to be the priority going forward.
Heidrick & Struggles: What would you like your legacy to be?
Liv Garfield: I'd like to create the happiest and most engaged culture, where every single person has the opportunity to be the best they can be.
With the advancement of the Internet of Things and AI, roles will change. We need to equip our employees so they have the skills for the future, that they have enough qualifications to remain relevant in the workforce of tomorrow, whether with us or beyond.
A happy and engaged culture and an upskilled workforce would be my ideal legacy.
---
To gain more insights on today's CEO, see the full Route to the Top 2019 report.
Stay connected
Stay connected to our expert insights, thought leadership, and event information.
Leadership Podcast
Explore the latest episodes of The Heidrick & Struggles Leadership Podcast