Boards & Governance
Board Monitor UK 2022
In 2021, boards of companies in the FTSE 350 saw a record number of appointments, the largest share of seats ever going to women, and great improvements in ethnic diversity.
About the report
This report is part of Heidrick & Struggles' long-standing study of trends in board composition in countries around the world. Produced by our CEO & Board Practice, these reports track and analyze trends in non-executive director appointments to the boards of the largest publicly listed companies in Australia (ASX 200), Belgium (BEL 20), Brazil (BOVESPA), Canada (TSX 60), Denmark (OMX Copenhagen 25), Finland (OMX Helsinki 25), France (CAC 40), Germany (DAX and MDAX), Hong Kong (Hang Seng), Ireland (ISEQ), Italy (FTSE MIB), Kenya (Nairobi Securities Exchange Top 60), Mexico (BMV IPC), the Netherlands (AEX), New Zealand (NZX 10), Norway (OBX), Portugal (PSI 20), Saudi Arabia (Tadawul), Singapore (STI 30), South Africa (JSE Top 40), Spain (IBEX 35), Sweden (OMX 30), Switzerland (SMI Expanded), the United Arab Emirates (ADX and DFM), the United Kingdom (FTSE 350), and the United States (Fortune 500). Information about executives is gathered from publicly available sources, BoardEx, and a Heidrick & Struggles proprietary database.
Despite the uncertainty that has stemmed from the impact of the COVID-19 pandemic, racial and social justice movements, Russia's invasion of Ukraine, and general economic volatility, there are two certainties for corporate leaders today: one, that there is a greater focus than ever before on purpose, and, two, that the sum of all these events has changed the very nature of corporations' license to operate. There are greater expectations that companies will and should do more to positively impact social and political issues. The war in Ukraine is a clear example: companies have been pressured by a range of stakeholders to forgo profit for the greater good. We also expect corporations to be a large part of the solution to the climate change emergency, to come to the table with clear, science-based targets and prove that they are delivering on them.
These changing expectations have brought new risks and have had an impact on FTSE 350 boards' composition. Last year was a year of many changes: 2021 saw a record number of appointments, the largest share of seats ever going to women, and great improvements in ethnic diversity.
The progress is encouraging, and yet there is much more to achieve. On gender balance, for example, the Financial Conduct Authority (FCA) recently concluded that mandating a specific share of women on boards is no longer enough and instead set a more progressive goal for FTSE 350 companies to appoint at least one woman in one of these four roles: chair, senior independent director, CEO, or CFO. Our analysis shows a wide gap for FTSE 350 companies: as of May 2022, only 54% of companies had met this new requirement. The FCA is also asking that boards appoint at least one person of non-white ethnicity. Companies are expected to publish their progress in the next annual reporting cycle.
And while progress in broadening the spectrum of experience around boardroom tables in FTSE 350 companies is important, each company must also ensure it has a board that is not only prepared for today's challenges and expectations but able to anticipate what additional diversity of expertise and background they will need to maintain future-proof organizations.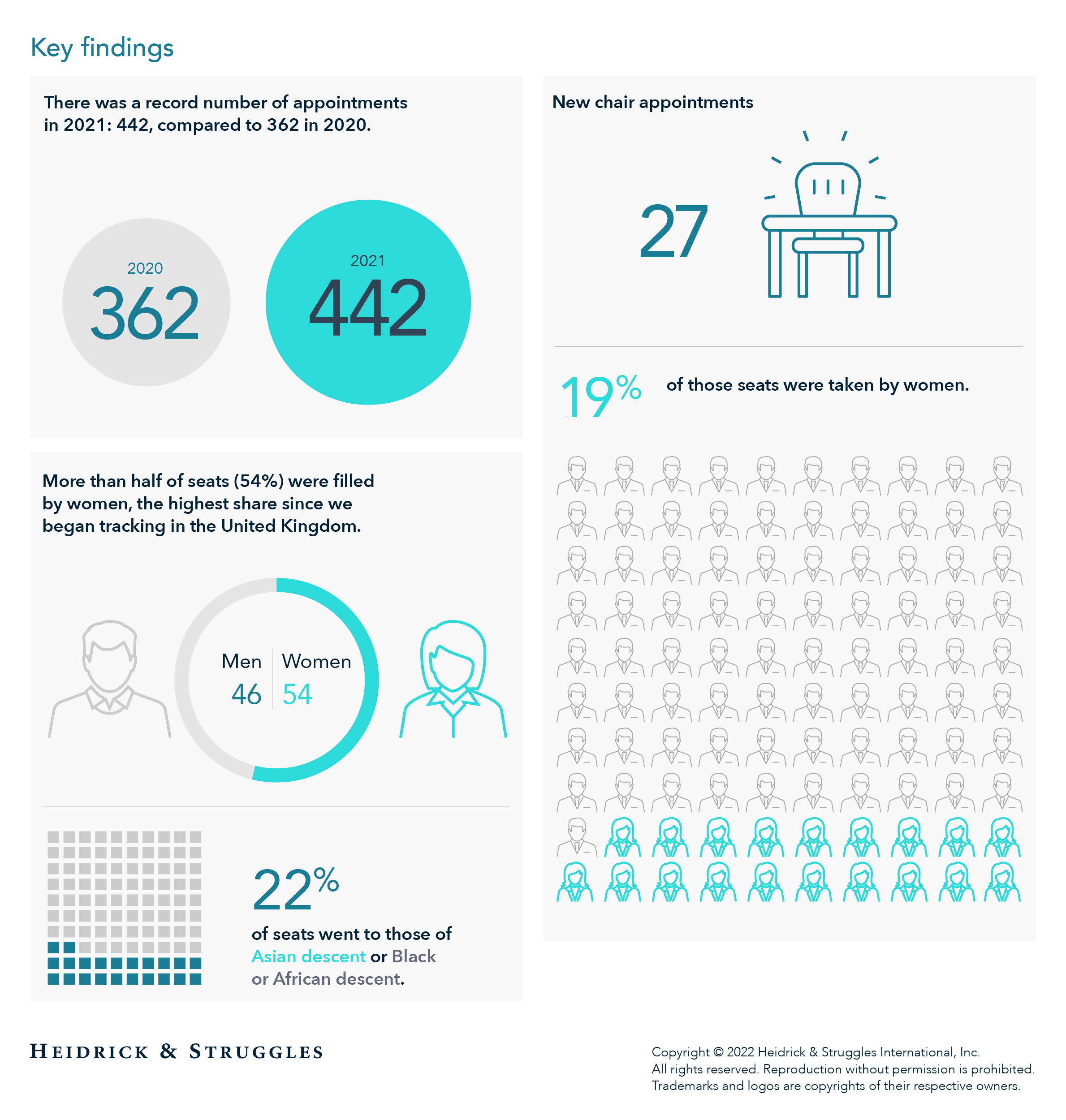 For more, download the full Board Monitor UK 2022 report.
---
Acknowledgments
Thanks to Kit Bingham and Alice Breeden for their contributions to this report.
Stay connected
Stay connected to our expert insights, thought leadership, and event information.
Leadership Podcast
Explore the latest episodes of The Heidrick & Struggles Leadership Podcast