Board Monitor Brazil 2022
Boards & Governance
Board Monitor Brazil 2022
In 2021, B3 companies frequently appointed directors with human resources backgrounds, with a strong mandate to improve succession planning at both board and executive committee team levels.
About the report
This report is part of Heidrick & Struggles' long-standing study of trends in board composition in countries around the world. Produced by our CEO & Board Practice, these reports track and analyze trends in non-executive director appointments to the boards of the largest publicly listed companies in Australia (ASX 200), Belgium (BEL 20), Brazil (BOVESPA), Canada (TSX 60), Denmark (OMX Copenhagen 25), Finland (OMX Helsinki 25), France (CAC 40), Germany (DAX and MDAX), Hong Kong (Hang Seng), Ireland (ISEQ), Italy (FTSE MIB), Mexico (BMV IPC), the Netherlands (AEX), New Zealand (NZX 10), Norway (OBX), Portugal (PSI 20), Saudi Arabia (Tadawul), Singapore (STI 30), South Africa (JSE Top 40), Spain (IBEX 35), Sweden (OMX 30), Switzerland (SMI Expanded), the United Arab Emirates (ADX and DFM), the United Kingdom (FTSE 350), and the United States (Fortune 500). Information about executives is gathered from publicly available sources, BoardEx, and a Heidrick & Struggles proprietary database.
Over the past few years, people all over the world have experienced an unprecedented series of events that have fundamentally changed both our communities and our organizations, from the COVID-19 pandemic to racial and social justice movements, increased polarization, the sharpened focus on climate change, and recent geopolitical events such as the war in Ukraine. One outcome of these experiences has been a greater focus on purpose, both individual and organizational. It's undeniable that all these events, taken together, have changed the very nature of corporations' license to operate—the fundamental contract between organizations and the communities within which they do business. Today, there is a very clear expectation that companies take a stand on social and political issues.
There are enormous challenges in Brazil, starting with the negative impact of the COVID-19 pandemic on workforces, with many Brazilian companies experiencing higher attrition, high levels of stress and mental health issues, and a decrease in employees' sense of belonging. And those concerns must be set in the context of high volatility in the global markets, a polarized local presidential election focused on extreme narratives, a weak economic outlook, a projected investment drought, a limited talent market, and the impact of the war in Ukraine that is trickling down into the Brazilian market. All these challenges are increasing uncertainty and creating a riskier business environment.
At the board level, we have seen many companies appointing directors with human resources backgrounds or experience setting up people committees, with a strong mandate to improve succession planning at both board and executive committee team levels. This trend addresses the need to realign board competencies with the shift toward people and purpose.
So, how did boards of B3 companies (Brazilian Stock Exchange) change their composition in 2021 to tackle these new expectations and mitigate potential risks? In Brazil: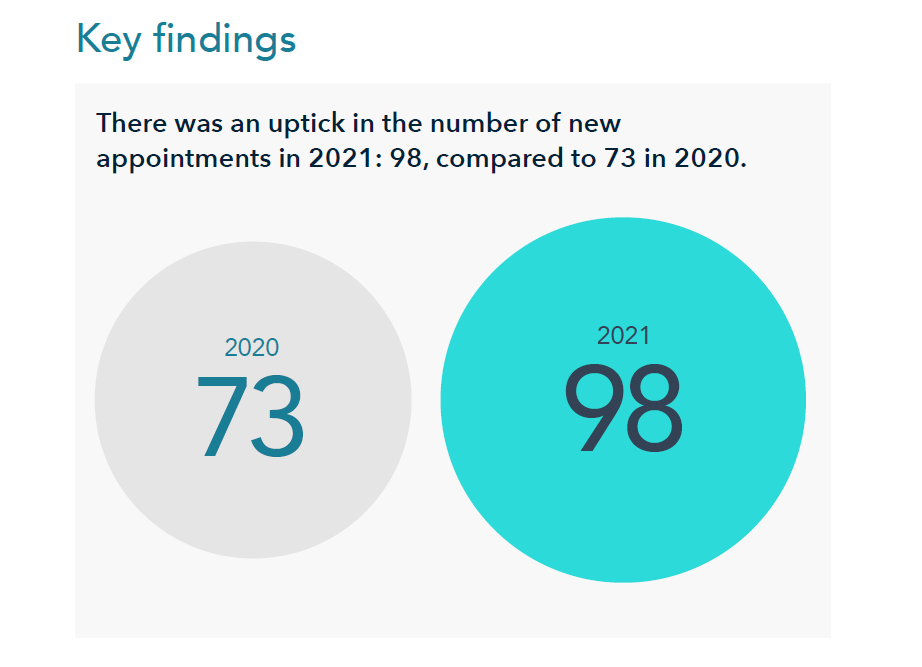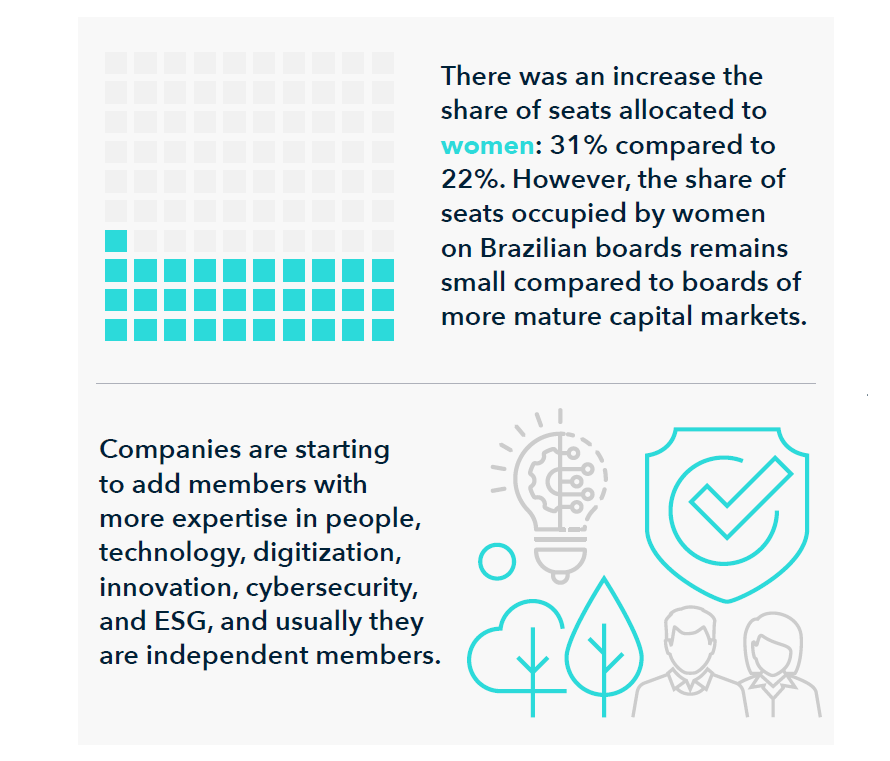 While there has been progress in broadening the spectrum of experience around boardroom tables, each organization needs to make sure it is prepared not only for today's challenges but is anticipating what type of directors it will need to appoint in order to future-proof itself. Companies need to be ready to discuss talent management and CEO succession plans across a spectrum of time horizons and scenarios, including the long-term or emergency succession of their top executives.
---
Acknowledgments
Thanks to Ana Paula Chagas, Marcos Macedo, Paulo Mendes, and Gabriela Rocha for their contributions to this report.
Stay connected
Stay connected to our expert insights, thought leadership, and event information.
Leadership Podcast
Explore the latest episodes of The Heidrick & Struggles Leadership Podcast